Opening + Reviews
Meet the artists at the opening event, November 17, 2021.
View the Virtual Art Opening Event below: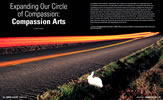 We're thrilled that Animal Culture Magazine featured The Fifth Trust Exhibition!
To have access to this full issue and all other amazing Animal Culture Magazine issues for as little as $5 a month, here is a link to their Patreon: www.patreon.com/AnimalCultureMagazine.