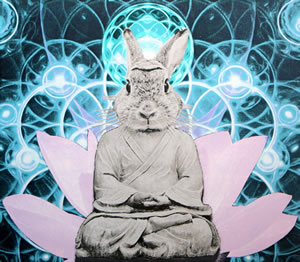 Buddha Bunny, 2015, Serigraph on Arches 88 Silkscreen Paper, 15" x 15"
Buddha Bunny made her debut in 2015 in Bunnymania at the Chung King Studio in Los Angeles. I created this piece for the show because I believe rabbits, like many other animals, have a Buddha-like nature. Rabbits are the third most popular pet in the United States, but unfortunately they are also more often abandoned than dogs or cats.

Disappearing Bees, 2019, 3 Monoprints (Triptych), 10" x 12" each
Disappearing Bees was painted onto a silkscreen with watercolor pigments and printed three times using transparent base. Each time the image was printed, less of the pigment remained. The prints that come after the original (first) print are called "ghost prints." I used this technique purposefully to mirror the fact that bees are disappearing from our planet at an alarming rate.
Art can be a powerful tool for change. I believe it is the responsibility of the artist to bear witness to injustice and to hold a mirror to and shape reality. Art can play a positive role in society by engaging the public and opening dialogue. My art enters the public domain through the use of billboards, prints and murals to educate the public and to create debate and awareness about important issues concerning the future of our planet. A lot of my work involves printmaking. Printmaking has had a long history of being tied to political movements, social justice movements and revolutions. My work is a continuation of this tradition as I use my work to explore such themes as women's rights, animal rights, climate change, war, the media and environmental issues.