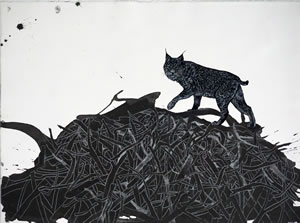 Where Will They Go After Their Forest Has Been Stolen?, 2015, Ink, white conté pencil, gouache on paper, 30" x 18"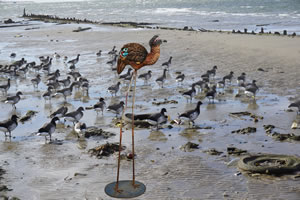 Closed to the Public, 2021, Photo collage with re-constructed and painted found garden object and found plastic, 31" (H)
The sculpture is a chimera, a hybrid; created to reveal the amount of plastic found inside dead sea bird's stomachs. Parent birds sometimes mistake plastic waste as food to feed their chicks. Photo taken at Dead Horse Bay in Queens, NY, and is part of the larger Jamaica Bay area, a migratory path for millions of birds each year; Dead Horse Bay was closed to the public in 2020 due to the high volume of toxic waste and contamination.
Janell O'Rourke is an interdisciplinary artist who works in the field of critical animal studies. Her studio practice is deeply shaped through drawing, often using intentionally low tech materials and techniques. Through art making, she explores the mechanisms of unwarranted prejudices that objectify other animals and our relationships with them. How does one unlearn normalized bigotry; the ungrounded divisions that ceaselessly divide us from them? Can artwork help to critically engage and imagine with animal beings and nature as creative partners? Art can be more than human. Perhaps through open reflection, art can connect us respectfully to other beings, as we are already; and nudge us into the vulnerable future to promote unity and shared experiences.